10% OFF on many attractions when you stay at Setanta Farmhouse
Listed below are attractions that are close to Setanta Bed and Breakfast and Self Catering Kildare
---
Take a barge trip on Ireland's Grand Canal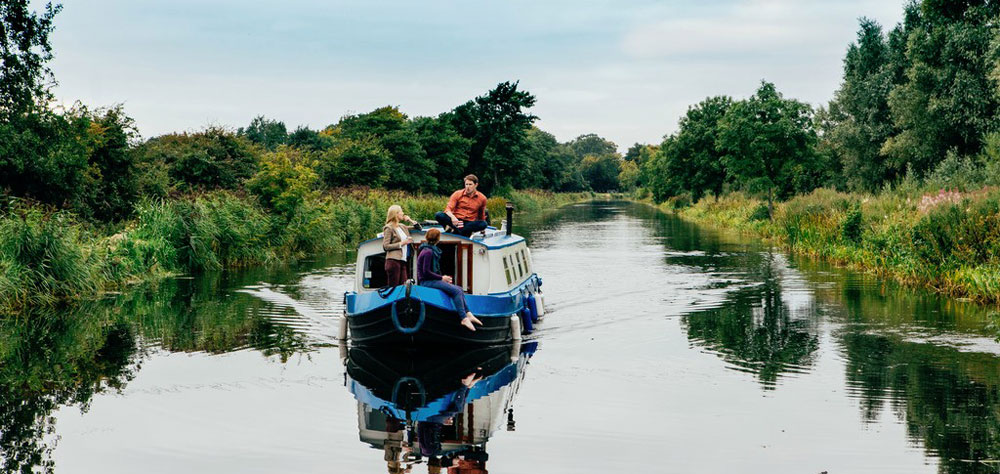 Digby Lock Cruise
Discover the workings of a 222 year old canal lock on a boat trip on the Grand Canal. Cruise for 2.5 hours through Kildare countryside on a fantastic activity that's only 30 minutes from Dublin.
Leinster Aqueduct Cruise
Experience canal cruising on a one hour canal bargetrip from Sallins Harbour. Cruises run twice daily at weekends from March till October.
Private Charter
Exclusive hire for your group of up to 12 people any-day of the week. For special occasions catering is available or you can enjoy a meal in one of the waterfront restaurants in Sallins.
Visit bargetrip.ie for full details
---
Nearby Activities
Trace your Ancestors at Newbridge Library (ask Joan for details)
Dublin City Tour
Golf : 9 and 18 hole and Par Three Golf Courses also Driving Ranges
Horse riding and trekking
Fishing in River Liffey, Grand and Royal Canals
Donadea Forest and Canal Tow Path walks
5 Screen Cinema and Theatres
Driving School and Track Days at Mondello Park Racing Circuit.
K Bowl Entertainment Centre featuring 10 Pin Bowling, American Pool, Air Hockey & Gamezone
---
Sightseeing
National Stud
Nearby Kildare town is home to the National Stud and Museum allowing the visitor an oppurtunity to see the past and present of the Irish thoroughbred horse. The skeleton of the great Arkle can be seen. Discount tickets available from Setanta Farmhouse.
Japanese Gardens
In the same complex as the National Stud are the Japanese Gardens. The Gardens , which symbolise life, traces the journey of the soul from Oblivion through twenty stages to Eternity. The Gardens offer the visitor both visually appealing views and also provokes thoughts about the true meaning of life.
St. Fiachra's Garden
In 1999 the Irish National Stud created a commemorative garden to St. Fiachra, Patron Saint of Gardeners, to celebrate the Millennium. It was designed by Professor Martin Hallinan, award winning landscape architect. He created a garden which presents visitors with a simialr natural environment to that which inspired the spirituality of the monastic movement in Ireland during the 6th and 7th centuries.
Castletown House
Castletown is the largest and most significant Palladian style country house in Ireland. Built c.1722 for the speaker of the Irish House of Commons, William Conolly (1622- 1729) the designs of a number of important architects were used, notably Alessandro Gailiei, Sir Edward Lovett Pearce and later Sir William Chambers. The entire estate was sold by the Conolly-Carew family in 1965 to a property developer and in 1967 the house and some parkland were purchased by the Hon. Desmond Guinness. Both Mr Guinness and subsequently the Castletown Foundation, who acquired the house in 1979, devoted considerable effort and resources to maintaining the house and restoring the principal rooms to a high standard. Castletown was transferred to state care on 1 January 1994.
Russborough House
Russborough House in Blessington, is situated near the borders of counties Kildare and Wicklow. Nestled in spectacular natural surrounding, there is no other Palladian house in Ireland to rival it aesthetically or architecturally. It was designed by the renowned German architect, Richard Cassels.
Newbridge Silverware Visitor Centre
For 70 years, Newbridge Silverware has been designing and producing quality giftware and tableware. The evolution of the Newbridge Silverware brand from that which was associated with cutlery to a premier name in the design and manufacture of quality jewellery and lifestyle products is indeed remarkable.
At the heart of the brand's success is the Newbridge Silverware showrooms, located at the company's headquarters in Newbridge, Co. Kildare.
Larchill Arcadian Gardens
Larchill is one of Ireland's most important, rediscovered gardens. Created in the mid 18th century, Larchill is a 'Ferme Ornée' (Ornamental Farm) and as such is the only surviving complete garden of its type in Europe.Scenic walks through parkland and beech avenues link 10 magical garden follies. Rare breeds graze the land. There is a picturesque 8 acre lake with two fairytale island folies, a formal Walled Garden with Shell Lined tower and a decorative gothic farmyard.
Lullymore Heritage and Discovery Park
Lullymore is a small mineral island that rises gently out of the Bog of Allen. Lullymore Heritage & Discovery Park provides a unique and fascinating insight into the development of the Irish people over our 9,500 year history.The park consists of indoor exhibitions, replica ancient dwellings, woodland, bogland walkways and theme gardens.
St. Brigid's Cathedral and Round Tower
St. Brigid's Cathedral, most recently rebuilt in the 19th century, stands on the original site of the nunnery founded by St. Brigid in the 5 th century. Today it houses numerous religious artefacts including a 16th century vault, religious seals and a medieval water font, later used for christening. The architecture reflects the defensive function of the Cathedral, with distinctive Irish merlons (parapets) and walkways a noticeable feature of the roof.
Moone High Cross
Marked by the ruins of a medieval church near the vicinity of Moone Abbey, is the site of an ancient monastery. The church is believed to have been founded by St. Palladius, who came to Ireland in 431. It was later dedicated to St. Columcille.
Ballitore Quaker Museum
In 1975 the meeting house of the Society of Friends (Quakers) which had fallen into ruin was restored by Kildare County Council as its contribution to the European Architectural Heritage Year, and it has served as the library for the Ballitore area since then. The museum, which is incorporated into the library, contains a selection of artefacts and memorabilia of a mainly local nature. Items of a Quaker interest also feature and include a wedding dress and bonnet, worn by Marian Richardson (nee Wakefield) at Ballitore in 1853. In the entrance hall are the door and lintel stone from the original Shackleton home at Harden in Yorkshire which was built in 1660. Also in the entrance hall is a ledger dated 1807- 1810 for the Shackleton Mills at Lucan. Amongst the Ballitore manuscripts on display are Shackleton letters and notebooks which contain water colours by Mary Shackleton and the Ballitore Magazine for July 1809.
Kildare Designer Outlet village
A trip to Kildare Village Outlet Shopping makes an ideal shopping getaway. The architecture of Kildare Village is inspired by the region's stud farms and world renowned thoroughbred horse-breeding industry. Animated facades, a varied roofscape and rich landscaping, all contained in an open air mall, provide the perfect setting for a unique shopping experience. Fabulous fashions for women, men and children are available, including shoes, jewellery, lingerie sportswear, travelling equipment and sought after lifestyle luxuries abound at Kildare Village Outlet Shopping. Perfectly priced gifts and gift vouchers too can be found at an array of new and recently-opened fashion boutiques operated by the best designer names.
Dublin City Tour
The Dublin Tour has been carefully designed to give you the freedom to explore and experience the history and culture of Dublin at your leisure. We visit all the main Dublin attractions along our route and these include Dublin Zoo and Trinity College (home of the Book of Kells). Our entertaining Dublin tour guides, who are all accredited by Failte Ireland, will show you the city as only a native can. Your 24-hour ticket allows you to hop on and off as often as you wish.
Discount tickets available from Setanta Farmhouse